Today is National Teacher Appreciation Day, part of National Teacher Appreciation Week, an annual celebration of teachers that has been observed since the 1980s.
To celebrate, I would like to thank the teachers who have most impacted my life from elementary all the way up to those I work with now. If it wasn't for these people, I may not even be a teacher right now.
Take a walk through my life with me as I recount some of the most amazing teachers I've ever encountered. I'll share them with you, when they were in my life, and why I remember them.
*Side note… I am not going to name every teacher I've ever had. Sadly, there are many names that I don't remember, but I want you to know that they all played some part in my life even if they're not mentioned.
Elementary School
I went to four different elementary schools in two different states. Some of the schools I left and went back to. (We moved around a lot, including to different towns within a state, too.)
East Cherokee Elementary School (Tennessee)
Berkeley Elementary School (Virginia)
Akard Memorial Elementary School (Tennessee)
Riverview Elementary School (Virginia)
At those different schools, I encountered a plethora of teachers who I still remember today. I want to take a moment to thank them for their role in my life, even if they were only in my life for a few months.
Mrs. Marrs and Mrs. Adcock

(3rd grade, Tennessee, they would switch classrooms to teach us their subject matter)

Although I was only their student for the fall semester, I remember the welcoming feeling I had every time I entered their classrooms.
Thank you Mrs. Adcock for reading out loud to us every day. The last book I remember you reading to us before I left in December was Little House on the Prairie.
Thank you Mrs. Marrs for the book (The Midnight Ghost) that you gave me before I moved at Christmas, a book that I still have. It has been read over and over again, and it has been shared with my classes!

Mrs. Gould

(5th grade, Virginia)

Thank you for teaching me the importance of helping others. You made sure to ask me about my day, and you made sure I knew how much I had to offer the world.

Mrs. Henderson

(1st grade, Virginia)

Thank you for being a constant in my life when I was moving around so much in the early years. You were sweet and kind to a new student who had no idea what was going on.

Mrs. Shelton

(4th grade, Virginia)

Thank you for your smile. Anytime I think of you, I remember your wonderful smile, which made any bad day instantly better.
Middle School
Keeping with the moving around bit, I went to two different middle schools in two different states.
Stafford Middle School (Virginia)
Brownwood Middle School (Texas)
Middle school was an awful time in my life. Not only did I move states after 7th grade, but my personal life was thrown in front of a freight train. I know that probably doesn't make any sense (if you don't know my story). However, if it wasn't for these teachers (and several more), then I'm not sure how my life would have changed during those pre-teen years.
Mr. Davis

(6th and 7th grade, band, Virginia)

Thank you for introducing me to music. I will always remember the day (or week) you brought all sorts of instruments into the band hall. Our little 6th grade minds exploded with the choices.
I'll also never forget the words you said next… "I will teach you whichever instrument you want to play." With those words, you gave us the freedom to choose, which is super important in a classroom. Thank you for that.

Mrs. Scherer

(6th grade, social studies, Virginia)

First, I have to say that it took a lot of internet searching to find how to spell your name, but I finally found you in an article about your retirement after 20 years of teaching.
Thank you for teaching me the importance of serving those around me. I remember you asking me to join Students Serving Stafford, a community service program, and I loved it (I'm not sure if it's still available to middle school students). The best part for me was always when we visited the nursing homes with gifts we had handmade for them.
Mr. Zinger

(7th grade, math and reading, Virginia)

Whenever my students ask me who my favorite teacher was, I always say you (sorry everyone else).
Thank you for making your classroom inviting. You had your room done up in a Harry Potter theme before that was even a thing. (I even remember Azkaban in the corner!)
Not only did you introduce me to the wonderful wizarding world of Harry Potter (I'm a Slytherin by the way,), but you also showed me how important it is for students to connect to the content in the classroom. Thank you for engaging us in our learning!

Mr. Everett

(8th grade, band, Texas)

Thank you for seeing my potential when it came to music. I was terrible at the trumpet, but you thought I'd be more successful with the French horn given how I played. I caught on to the French horn sooner than I thought I would and became first chair not too long after that.
Because of that change, I chose to minor in music education in college. (I would have majored in it, but I quickly realized that the music part of that wasn't my passion.)
High School
I only went to one high school. However, we still moved around, but we stayed in the same district (mostly).
Brownwood High School (Texas)
High school wasn't too awful for me. I was incredibly shy, but I had a few close friends who kept me sane. The teachers, though, really showed me the support I needed. I didn't have a single negative experience with a teacher in high school (or any grade, actually), so picking the ones who stand out was a little difficult. I'll try my best, though.
Mr. Hayes

(9th-12th grade, Band)

You may not know it, but other than Mr. Zinger (see middle school above), you impacted my life the most. Being my teacher for four years straight could have something to do with that, but that's okay.
Thank you for always looking out for me (and later my siblings). You made sure I was doing okay without prying. You made sure that I was on every band trip even if there were circumstances that would have prevented me going.
I can't thank you enough for your words of wisdom and caring nature.

"To be early is to be on time. To be on time is to be late. To be late is to be a mullet." -Mr. Hayes,

©️

2001-2005

Mrs. Franklin

(9th grade, English I)

Thank you for showing me that I have a voice. I don't remember what the lesson was or what we were supposed to be doing, but you told me that I should speak up if I had something to say. Because of you, I wasn't afraid to read out loud or share my ideas.
You made me feel like I mattered.
Mrs. Lindsay

(English and Journalism — I can't remember which grades… I think 10th-12th)

To be honest, I don't remember much of you English class. I do remember your journalism class. Thank you for pushing me out of my comfort zone in order to report for our school newspaper.
Before I started teaching, I was a reporter for a local newspaper in Virginia. If I hadn't have learned the skills from you, then I likely never would have gotten that job.

Señora Blagg

(11th and 12th grade, Spanish III and IV)

Your class was probably the most difficult I ever took. Foreign language was never my forte, but you taught me to persist.
Thank you for never giving up on me. Thank you for allowing me to feel welcome in the Spanish Club, too. (Salsa y Salsa was my favorite meeting!!)
Mr. Romig

(11th and 12th grade, history)

Two years in a row I got to call you my teacher. I'll admit, I wasn't a big fan of history when I was in high school, but that didn't matter. Thank you for your kindness every time I walked into your classroom (even when I was a little early coming in from lunch).

Mr. Crawford

(12th grade, Auto Tech)

Thank you for explaining to a classroom of boys that a girl could do the work, too. Not only did you make sure that I felt welcome and safe in a classroom full of teenage boys, but you also treated me like I had my own intelligence, like I could do just as good as the boys could in that class.
College
After all the moving around in my life, I chose to stay close to home for college… So close I was in the same county (we had already moved to the next town over my senior year of high school). My parents had other plans, however, and they moved back to Virginia after my freshman year of college… So much for staying in one location.
Howard Payne University (Texas)
Sometimes I think that college professors don't get enough recognition. I know I'm going to leave a lot of great teachers off this list (mainly because I can't remember names), but hopefully you don't mind too much.
English Department

Dr. Romig, Dr. Hopp, Dr. Kimery

Thank you for teaching me to love and appreciate reading poetry and other forms of literature. If it wasn't for you, I'm not sure how I'd feel about teaching it myself.
Thank you for showing me that grammar wasn't a bad word. I sincerely enjoyed the enthusiasm for teaching that was evident every time I walked into any of your classrooms.
History Department

Dr. Weatherby, Dr. McNiece

Thank you for making history engaging. Because of you, I learned to love history, which is great since I married someone who delves into it on purpose.

Education, Music, and Math Departments

Dr. Mills, Dr. Lehrer, Dr. Owens, Dr. Tucker, Dr. Coulter

It may seem crazy putting all these departments together, but it was hard to separate the lessons I learned from each of you. Thank you for teaching me…

the value of asking for help (especially Dr. Coulter)
the importance of following your passion (even if the path is different than the one you're on)
the purpose for staying strong and never giving up
Adult Life
Even though I earned my teaching license in Texas, we moved to Virginia to be closer to my family. After a few years there, we knew we belonged back in Texas.
Gateway Private School (Virginia)
Clifton Middle School (Texas)
Clifton High School (Texas)
Between the two states, I've met so many amazing educators through the schools I've worked in and through a variety of other places. I would have to list about a million people (how's that for hyperbole?) in order to show you all the people who impact me on a daily basis.
This is an all-inclusive shout-out to all the amazing educators I've ever worked with (I'd feel a little guilty if I only named a few of you). Thank you for all you do for our students. I've even seen some of you teach, so I know you deserve the accolades!
This is a shout-out to all the educators I've met online. Hint hint… Twitter is a great place to connect to teachers all over the world! Thank you for your support in online!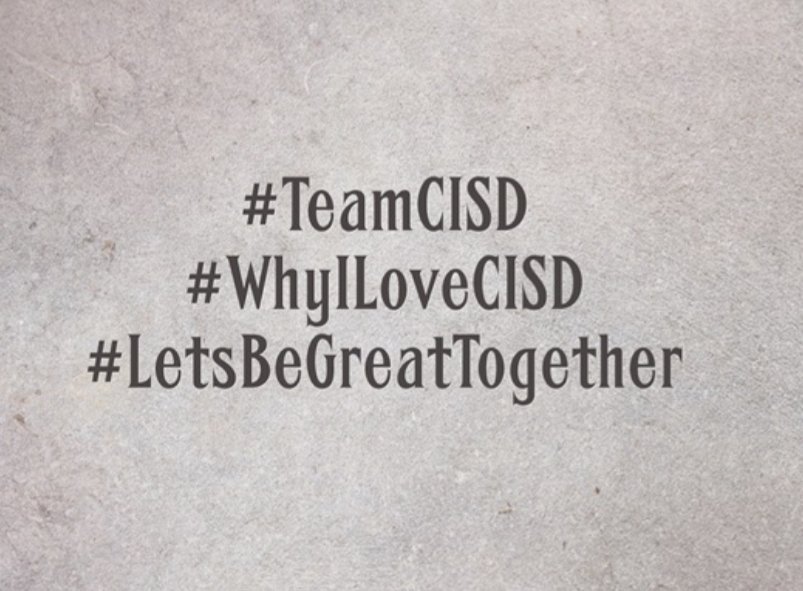 Your turn…
If you haven't already, take the time this week to thank a teacher. We often don't know how much they've shaped our lives until we don't see them anymore.
Which teachers stood out to you? Why did they make such an impact? Share with me in the comments below!